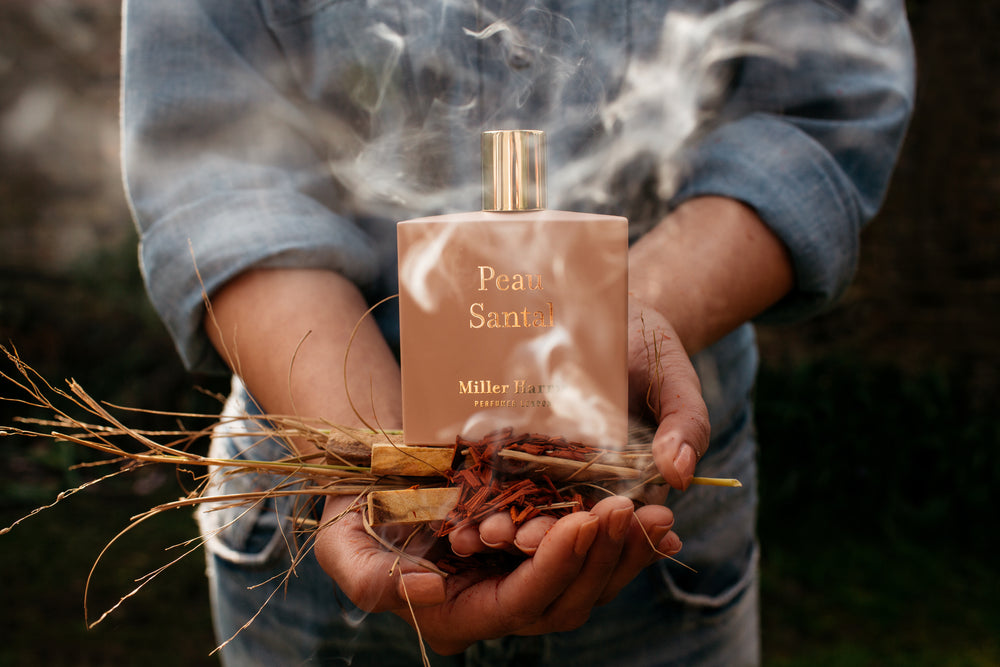 With the change of the seasons and the cooler weather, it's natural to want to change up your perfume or add something cosier to your fragrance wardrobe. We often find that people switch to warm ambers and woody fragrances as soon as the thermometer goes beneath 15 and the golden leaves start falling. So if you're looking for inspiration, we've made a shortlist of our winter favourites.
Peau Santal
If you want something cosy, woody and warm – look no further. Peau Santal takes all of what's delicious about sandalwood, the creamy heat, the green freshness, the piquant spice, and resinous sweetness, and pulls in all of those directions. A touch of incense, a lick of vanilla, a rush of pink pepper – all smoothed with cashmere woods.
Extra tip: if you like to wear florals most of the year, but would like some extra warmth, a spritz of Peau Santal before you apply your normal fragrance!
Leather Rouge
If you can't wear smoky, leathery, intense fragrances in the cold weather, when can you? Leather Rouge is an ode to curing leather with smoke – capturing the embers of a dying fire and plume of salty smoke, as well as the almost bitter darkness of leather. A flash of red from rose and raspberry, as well as a hint of petally violet stop it tipping into total inky black. Wear it on a cold day, and you'll see what makes it so irresistible.
Tender
A fragrance for true connoisseurs, Tender is a perfume created as an emotional response to F. Scott Fitzgerald's Tender is the Night. It captures a cool dusk in a garden in the south of France, the green of blooming flowers, a dark tulip effect splashed with ink, and the addictive vanilla-resin-leather scent of an aged book. Technically a marvel and filled with beautiful raw materials, Tender isn't for everyone – but those who love the art of perfumery are drawn to it.
Etui Noir
Another leather fragrance, Etui Noir is the fragrant equivalent of a favourite leather jacket worn to grunge bars and gigs. Comfortable, warm, and sensual. Wearing Etui Noir feels familiar – like you've got someone you've always known by your side. It hovers between leather and suede, thanks to the combination of vetiver and iris in the middle, with the resinous sweetness of elemi and incense.
Powdered Veil 
Like a veil of fine cashmere, a rich scarf that wraps you up and keeps you cosy against even the most bitter cold, Powdered Veil is an amber with musky warmth. As the name might suggest, there's a powdery sensation that feels reminiscent of maribou powder puffs, whilst the amber and musk have a translucent freshness thanks to the orchid and petally notes. There's a touch of vanilla in the base, but all in the name of sultry comfort rather than sweetness.