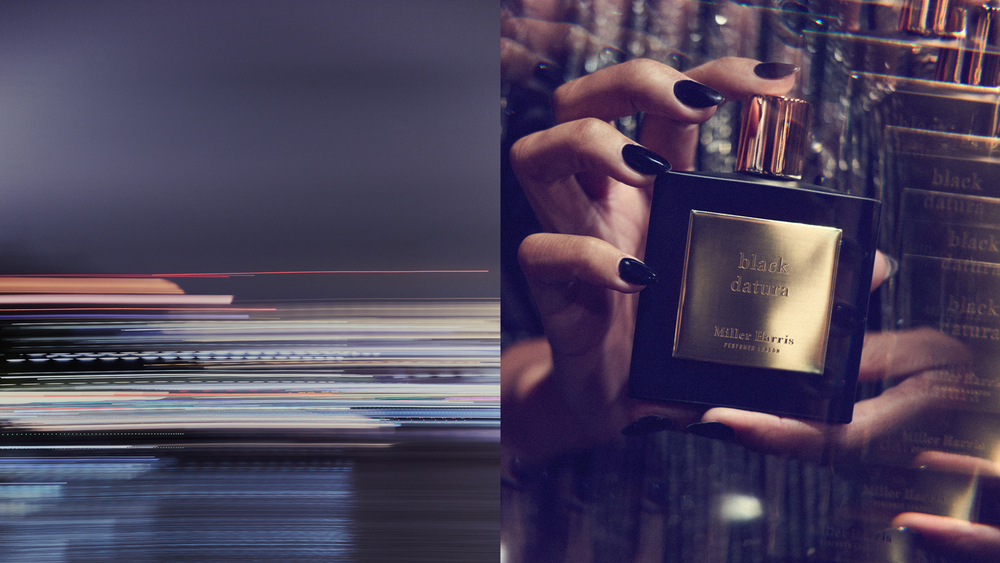 Into the night with Black Datura - written by Haydn Williams
Some fragrances are like Swiss army knives - pleasant utility scents that can take you from daytime into evening. Black Datara is not one of those fragrances. It's a late night adventure, a story of sensuality, a tale of things that happen when the sun goes down. Provocative and emphatic - this is not a peck on the cheek, it's a passionate kiss on the lips.
Miller Harris have returned to the Private Collection with a statement fragrance that takes the datura as its muse. A beautiful trumpet-shaped flower that is poisonous in high doses, the datara blossoms after dark and has been used as an ingredient in magic potions and witches' brews for centuries. Here the effect is equally intoxicating and Black Datura casts a spell all of its own.
The perfumer is Emilie Bouge, who has a long and successful relationship with Miller Harris (she's also the perfumer behind Oud Eclat, Hydra Figue and Reverie de Bêrgamote.) Emilie uses her palette to play with dualities - light and dark, sensuality and danger - and what a palette she has at her disposal. The Private Collection is the ultimate perfumer's playground. A place where they can use the finest raw materials and bring memories and stories to life. Emilie locates her story in London, but it could be anywhere that draws you in like a moth to a flame towards good times (and bad decisions.) The ingredients are vegan and free from artificial colours, parabens and other nasties. It's also worth mentioning the stunning flacon, packaging and cap. The matte black bottle with gold accents is the perfect housing for the fragrance and instantly hints at what's inside the box. You know the contents are going to be mysterious, nocturnal and luxurious… and you will not be disappointed.
The potion starts with that most carnal of flowers, tuberose. A rich, fleshy, buttery white floral note that doesn't play around, joined here by ylang ylang and pink peppercorn. It's quite an opening statement, at once captivating and heady. The heart of the fragrance ratchets up the intensity a notch further. Myrrh, incense and balsams are stirred in to ensure the magical brew has the desired effect. The final touch adds Haitian vetiver, Chinese cedarwood and musk, creating an elegant elixir that is made to last and sure to attract attention.
Black Datura will not be for everyone, but that's exactly as it should be. It's perfumery that has a point of view. It's no fence-sitter. If it were personified it would be Grace Jones in the 'Slave to the Rhythm' video. Strong, powerful, enigmatic, unpredictable - and dangerous on the dance floor!
Prepare yourself for potency and for pleasure. Prepare to draw others towards you and to leave them captivated by the hypnotic and sensual charms of Black Datura. After all, the best things blossom late at night.
Shop Black Datura now online and in stores. 
You can read more from Hayden at https://www.instagram.com/yousmellgreatwhatisit/