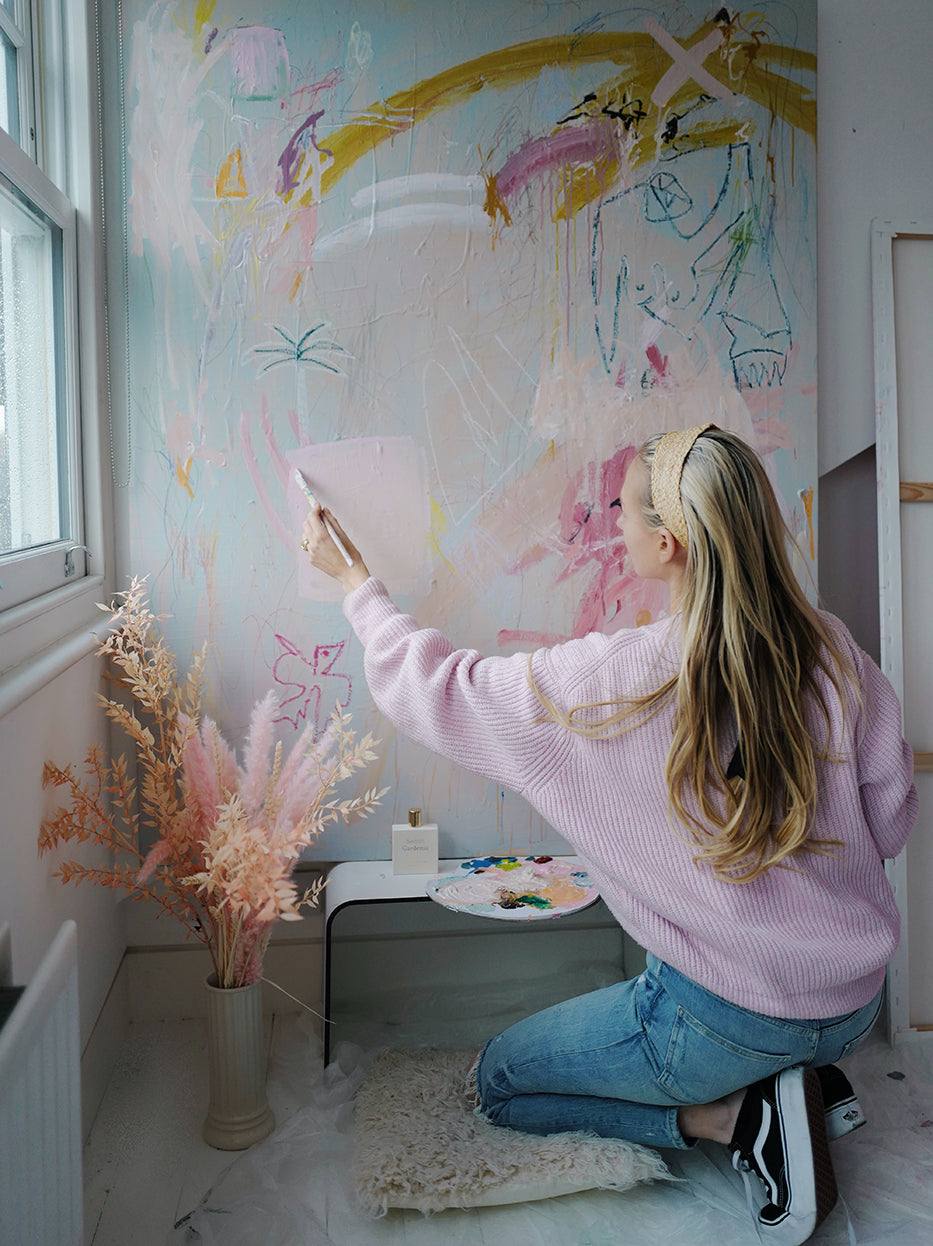 MH Meets Artist, Emmie Lou
At Miller Harris we're constantly inspired by art in its many forms and are constantly on the lookout for talented artists to work with. We've teamed up with the wonderful Emmie Lou to bring our new fragrance, Secret Gardenia, to life with her artistic flair. We catch up with Emmie to find out more about her work and creative brain...
1. Can you introduce yourself?
Hi! I'm Emmie :) I am a painter living and working in London.
2. How would you describe your work?
I aim to bring to life an abstract universe inspired by mystical femininity. Each piece is an oversized portal into an imaginary world where silhouetted figures are immersed in vibrant whimsical scenes. My main goal with each piece is to 'lift' the viewer to a state of joy and empowerment. I try to tow the line between full abstraction combined with figurative elements (that magical sweet spot in between is what I live for!)
3. When did you realise you wanted to pursue art?
I have spent the last 8 years of my career working in digital marketing and began to feel slightly lost and disheartened by a world of Facetune and filters. I craved a world before devices; a time when we lived blissfully in the moment (in lieu of documenting everything or it never happened). Having studied Fine Art at Parsons Paris I always had the itch to go back to painting, as if there was some unfinished business that was halted by the 'you'll never make a living as an artist' chat that I was constantly confronting.
I had entered into a depression, frustrated and unfulfilled. I had nothing to lose and bought a box of paints and an enormous canvas. The first stroke felt like an immediate weight had been lifted, the intimacy of the brush swimming across the cotton, the endless colours and compositions I had to release. Layers upon layers of hidden messages, expression and positivity ensued. I had finally found the light!
4. What's your favourite thing about living in London?
SO MUCH! I am originally from Sydney, Australia and as much as I love it, nothing quite beats London. I love the late-night Soho dive bars, the melting pot of nationalities, Pimms in the sunshine on that one day of Summer a year, the cosy hotels with fireplaces, the blue plaques of all the famous people that 'once lived here', the donuts at Borough Market, the National Gallery on a rainy day, RONNIE SCOTTS…I could go on and on!
5. Where is the most unusual space you've found inspiration?
There is this one rubbish collecting company and their vans are THE most divine shade of pink. I have taken hundreds of photos of it and I'm constantly trying to match it to a paint colour.
6. Who are your favourite artists?
Ooooh, I have so many. Cy Twombly, Helen Frankenthaler, Julian Schnabel and Lee Krasner are some of my absolute favourites.
7. What three items do you always carry with you?
I always have a rollerball perfume, iPhone (for music) and a miniature sketchbook.
8. Could you tell us a bit about the piece you created inspired by our Secret Gardenia fragrance?
This piece is a play on the idea of the 'Secret Garden' within ourselves.  The scent is inspired by London's secret gardens locked away filled with clandestine flowers and I wanted to create a piece that explored that idea of serenity and joy one receives when walking through these hidden gems.
9. Is there a smell that holds significance to you or reminds you of a particular point in your life?

I wore a tea-infused fragrance on my wedding day and now whenever I'm near tea it transports me straight back to walking down the aisle. The power of scent on memory is wild!
10. If your life was a fragrance, what would it be?
TUBEROSE. It has always been a favourite of mine and always will be. Google tells me that tuberose is a heady, sweet, exotic and complex floral…. I'll take that! ; )
COMPETITION TIME!
Want to win a signed, limited edition fine art print from Emmie and a bottle of our new fragrance, Secret Gardenia? 
All you need to do is head over to our Instagram, make sure you're following both @Millerharris and @Emmielouart, like both competition posts and comment below with your favourite floral emoji! 
View Emmie's artworks over on her website.