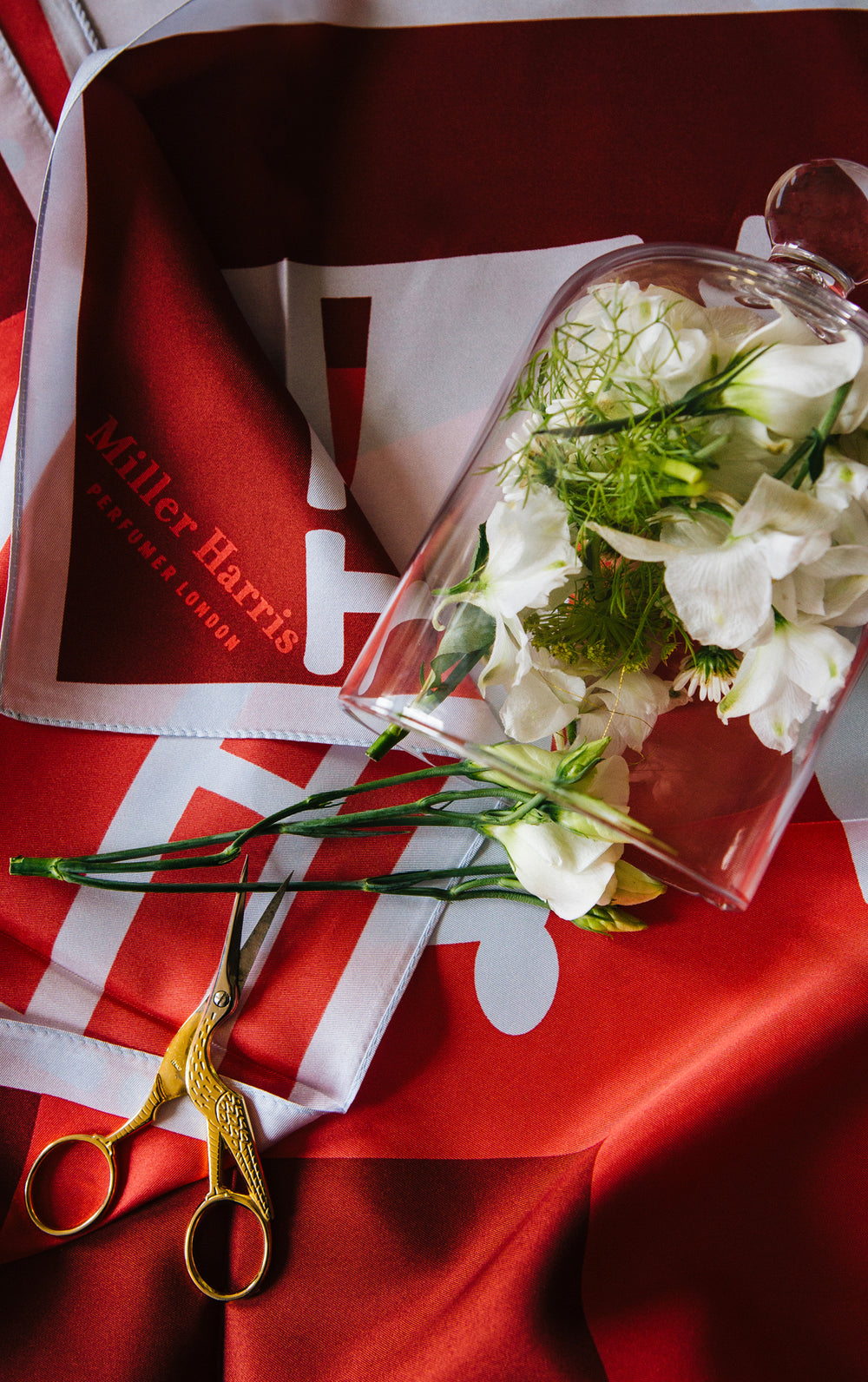 The Endless Appeal of Silk Scarves
One of fashion's most versatile and iconic accessories, the silk scarf continues to inspire and fascinate. Viola Levy counts the ways …
As legend has it, when Grace Kelly injured her arm a yacht party held by Aristotle Onassis in 1959, she used her trademark silk square scarf to make a sling. Such is the limitless uses of this seemingly humble square of fabric and why it remains such a staple accessory to this day.
Whether worn as a traditional tie, draped loosely over the shoulders, as a head scarf wrapped up in a hair turban, few things say 'style magpie' more succinctly. There are so many ways to wear it (Pinterest providing non-stop inspiration) and - as we've just seen - it can occasionally come in handy, whether as a make-shift sling, to cover up a love bite or draped around the neck to shield jewellery from covetous onlookers. 
Most people probably associate it being worn by Ms. Kelly in To Catch A Thief and Audrey Hepburn in Charade yet wearing a silk scarf doesn't have to transform you into a love interest of Cary Grant. I always think of that famous photo of Amelia Earhart sees the pioneering 1930s aviator stood by her plane with a cheeky grin and short mop of curls, teaming her silk neck scarf with an otherwise boyish outfit of jersey and trousers. I like to see that scarf as her subtle way of saying that she wasn't just 'one of the boys'. 
Savile Row Tailor Kathryn Sargent sports hers in a similar manner. "I started wearing silk scarves when I began my career in Savile Row. I would tie them loosely and smartly around my neck or shoulders to accessorize the suits and outfits I wear when I meet with clients."  She notes that "men are so lucky that they get to wear ties, so the silk scarf was my version of that, to really dress the same suit differently using different colours and patterns. I have a really great collection, all different sizes and colours, something for each season and occasion." 
Whether your wardrobe consists of full-length skirts and floral dresses or tomboyish separates, a silk scarf offers a bright sartorial signature like no other, a sentiment echoed by Helen David of fashion label English Eccentrics. "I love designing scarves because a silk scarf is the ultimate fashion statement," she notes. "They create a mood in an otherwise pared down outfit. There is never a season when scarves are out of style, the only change is how you wear them - they even work tied to your handbag."
Fashion academics are equally enamoured. "A silk scarf is something most people should have in their wardrobe," remarks Petsa Kaffens, Editor and Fashion Journalism Lecturer at the University of Westminster.  "I love the way it can be worn with something smart or with jeans, or like the Queen, when she's out riding. Plus, the touch of silk on your skin feels wonderful."
But it's not just the women who are swooning over scarves. Just ask menswear designer Geoff Stocker. "For me the men's silk scarf is a timeless fashion accessory because it really is the gold standard in terms of the material and the perfect canvas for presenting designs that contain a lot of intricate detail and colour," he enthuses. And if you need any further proof, you only need look to the stylish men from the 1970s such as Jimi Hendrix or David Bowie, who wore them like a loose tie with shirts and blazers, while Oscar Wilde was fond of a paisley scarf cravat – a style that can be seen on the modern dandies of today.
Whether it's your go-to-accessory or worn on special occasions, it's safe to say our sartorial love affair with the silk scarf is showing no signs of souring. How are you wearing yours?