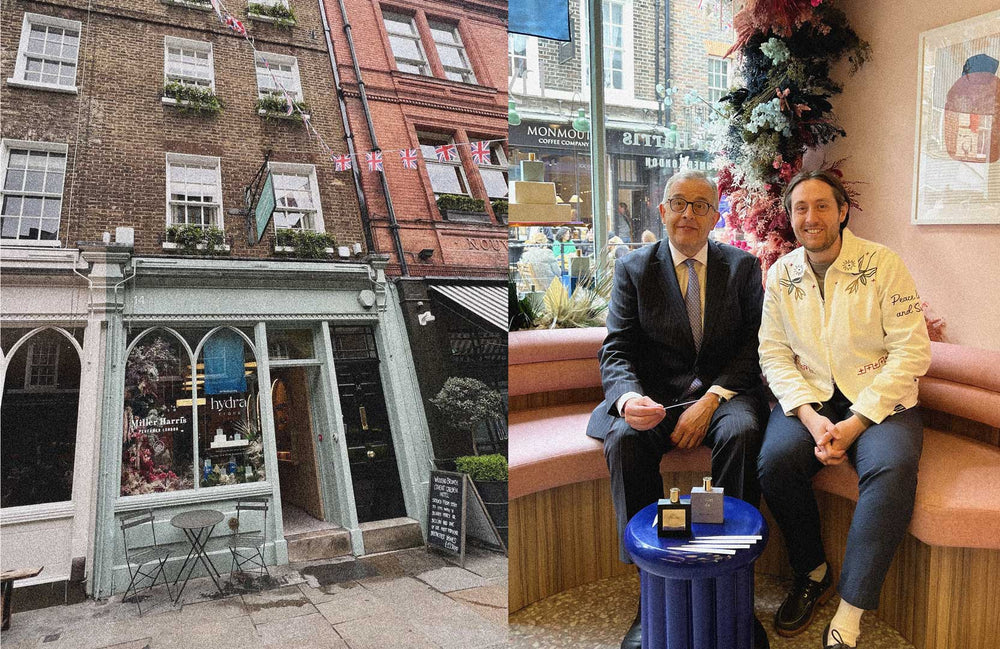 Father's Day at Miller Harris
Words by Nick Carvell


I love my dad, but we don't have a huge amount in common. He's good at sports, I'm terrible at them. He's great with numbers, I still can't remember my times tables. However, one thing we've always shared is a love for fragrances. My father burns through bottles of cologne faster than any person I've ever known – he can easily drain one a month. And I fully credit my father for setting me on the path to becoming a fragrance writer. When I was a child, he often travelled overseas for work – and he'd always bring me back one of those little coffrets from the plane's
duty free magazine, packed with travel-sized samples of Nineties classics. Thirty years later, I still feel that same sense of occasion when discovering new scents as I did splashing on those little bottles of Cerruti 1881 or Acqua di Gio when I was a kid.


However, I've never taken my dad somewhere to indulge his scent obsession. For Father's Day, I made a plan to change that by booking in for a dad and son fragrance consultation at Miller Harris.


Nestled next to the Covent Garden Hotel in London's Seven Dials, Miller Harris' flagship perfumery might be small in stature, but it's hard not to feel instantly overwhelmed by the sheer amount of choice on offer. Sitting on the comfy corner bench sipping a cup of tea, your eyes are drawn to the illuminated shelves supporting bottle-after-signature-square-bottle of scent – the entirety of Miller Harris' offering ready for the sampling. Thankfully, the beauty of a personal
fragrance consultation is you have a wildly knowledgeable consultant on hand to help with the process.


Over the course of an hour, Octavian took my father and I on a journey to each find a fragrance that suited us. Of course, we started with the basics - what we liked and didn't like. For me, florals, citruses and ozonics (what can I say, I'm a child of the Nineties). For my dad, leathers, citruses, amber and geranium. So far, so straightforward. But the fascinating thing about a session such as this is where the testing progress takes you. Armed with a handful of blotters, Octavian took those initial notes we'd said we were drawn to, and presented a series of Miller
Harris' spitzes one at a time for us to experience. From there we narrowed down to six, then to four - and only at this point were we allowed to try the scents on our skin.


What surprised me was that, as I edited down my selection, I became drawn to a kind of scent I'd never thought to try before. Much as I loved the aquatic L'Eau Magnetique and juicy, fruity Hydra Figue – both of which reminded me of those holiday-type fragrances my father used to bring me back from his trips – my senses were telling me to go for Le Feuille. Unlike all the fragrances currently sitting in my grooming cabinet, this scent is abundantly 'green' - dominated
by a superbly realistic note of tomato leaf, underpinned by bitter, herbaceous galbanum and citrus with a gentle woodiness beneath. It's a greenhouse in a glass bottle. Perhaps a reflectionof the time I've increasingly been spending outdoors now my husband is planting up our first garden at our home in Bedfordshire. It's incredible what you learn about yourself during this process.


The experience was a similar one for my father. However, things took a turn when, having tried a few beautiful citrus scents in the same vein as what he'd traditionally go for (shout out to Rêverie de Bergamote), Octavian decided to throw a curveball into the mix. Hooked to my dad's love of powdery geranium, Octavian spritzed Violet Ida onto a blotter and handed it to my father. Running it under his nose, his eyes widen in surprise.


"I am vividly imagining myself as a child opening presents on Christmas Day," he says. "Rêverie de Bergamote is a beautiful scent, but this one takes me to another level. There's something about this – I just connect with it emotionally."


Octavian tells us that perhaps the reason for this is that up until the 1960s – the time at which my father was a child – iris was the most common scent used to perfume make-up and beauty products for women, especially lipstick. The key note in Violet Ida? Orris Butter, aka Iris. Clearly, this scent reminded him of his mother, my grandmother – who sadly passed away during lockdown. This scent, categorically different from any scent I've known my father to wear, suddenly became the frontrunner in the process, and ultimately the one he took home with him.


Seeing my dad transported back to the time he shared with his mother – a time before I knew him – was a beautiful and wholly unexpected outcome of this experience for us both, and illustrates the deep connections within our brains that exist between scents and our memories. Being able to in some way facilitate that moment felt very special indeed. I don't think I could have given a better Father's Day present.


If you'd like to gift someone with a unique, in-store fragrance consultation, you can book on our website. 


Find the perfect Father's Day fragrance for the father figures in you life - explore our collection

 

here.