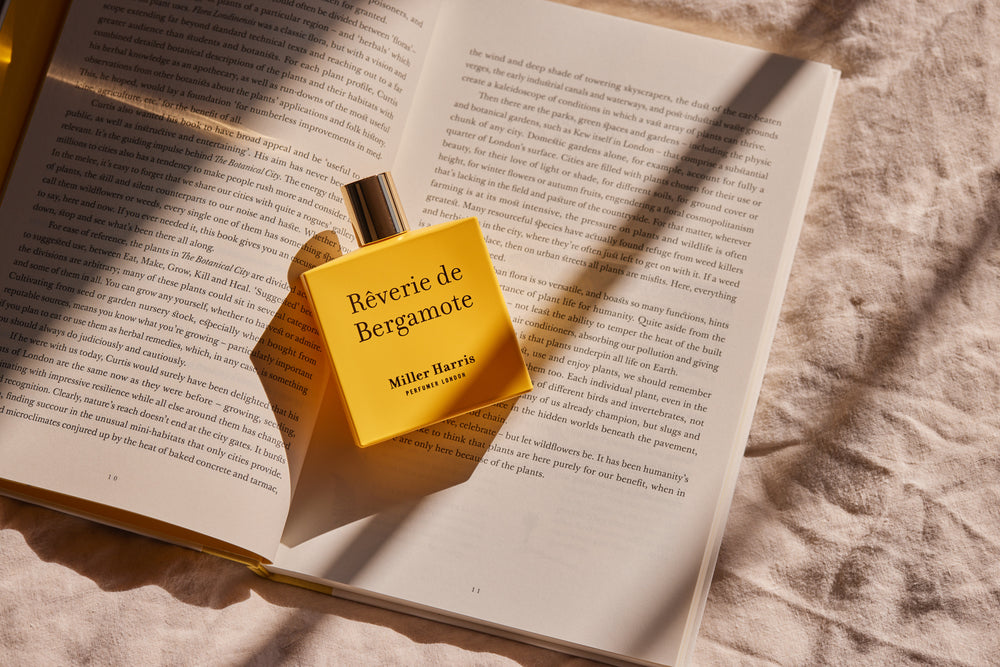 Sunny Reads & Scented Journeys
As a brand that loves to tell stories through scent, we often look to literature for inspiration and that means we always have a long list of reads to last us through the breezy spring days to summer sunshine. 
We asked our team to share some of their favourite reads that have fuelled their imagination and transported them to sunnier climates this year. 
Jon, CEO
What are you reading this summer?
Currently, I'm reading (and slightly obsessed with) Modern Nature by Derek Jarman. Derek was an avant-garde film-maker in the 70's, 80's and 90's and was as well known for his work highlighting HIV/Aids as he was for his film-making. In fact, growing up in that time, I was aware of his campaigning well before I had explored his films. Modern Nature is a Diary of a time at his home Prospect Cottage. Prospect Cottage can be found in Dungeness, Kent, a barren desert of shingle beach, several fishermen huts dotting the landscape and under the shadow of the behemoth that is Dungeness nuclear power station. He created a "no borders" garden with sea kale, poppies, thrift, valerian, colour on a backdrop of brown and gold and white shingle and complimented by the rust and wooden sculptures peppered around the space. It's more than that though, it's a book that offers hope, a mediation on life as we get older, when we battle illness, how we fit into the world with nature, freedom of expression and creativity, completely life-affirming and a complete inspiration. Everyone should read it and everyone should go to Prospect Cottage at least once in their lifetime.
Where I'd like to be reading it? 
Easy. The Northern Ibizan village of Sant Joan de Labritja. Specifically sitting outside the Giri Café with espresso and a grand-stand view of market day 
Which scent is accompanying your book of choice in your travel bag?
Rêverie de Bergamote is a perfect holiday fragrance of course but I would also take L'eau Magnetic with its aquatic and woody notes, it fits perfectly with the Ibiza landscape. 
Laurel, Content Manager
What book are you reading right now?
Exciting Times by Naoise Dolan
I reached for this in Waterstones on a particularly dreary Monday a couple of months back when I was looking for a little entertainment and this sounded like a good fit. 
Following an Irish 20-something-year-old woman throughout her year as a TEFL teacher in Hong Kong, the author comments on everything from class, gender and race to women's rights and Ireland's abortion laws - all carefully written with a bluntness and wit similar to that of Sally Rooney's Normal People and Conversations with Friends. With short, snappy chapters and a dry sense of humour it's a page-turner that's perfect for your hand luggage and sure to brighten a long journey. 
Where am I imagining I'm reading this?
Left feeling inspired by Dolan's descriptions of sky-rise landscapes of Hong Kong, I'd have to say Singapore or Jakarta. I'm a city-break type of vacationer and after a year of being stuck in one place I'm itching to go and explore somewhere new (with a slightly warmer and sunnier climate of course…)
Your holiday scent of choice?
Wander through the Parks. Its fresh, green and zingy notes make it the perfect scent for spritzing throughout the day when you need a refresher whilst exploring bustling markets or roaming through humid ancient old towns. 
Alex, Marketing & e-Commerce Director 
What are you reading this summer?
Turbulence – David Szalay
I'm re-reading after a failed attempt in lockdown, a book that I've had on the side for a few years now. I used to work, for several years opposite a lovely bookstore in London and got into the habit of buying more books than I ever have the time to read. This one falls into that group. I picked it up because I'd already read and re-read a book by David Szalay a few years ago called 'All That Man Is' and now try and read all his work. He writes incredible short stories that are built together to deliver really strong themes. He has great prose and the ability to fill these stories with people of such richness, yet they are often really sparsely written and you get people of great depth, written with economy. He doesn't waste his words, so it's perfect for a holiday read. Turbulence is broken into 12 stories, each spanning the world through 12 flights taken, and the stories of the life's of the strangers on these flights. They all weave into each other and cover a spectrum of human emotions from loneliness to love, and the seeming turbulence in each of their life's. It's hard to put down and is an honest assessment of human nature.
Where I'd like to be reading it? 
I love travelling Europe and I feel like it's been too long since I've been to Italy. If I could be anywhere, I'd be somewhere on the Ligurian coastline, hopping between the beautiful towns in that part of the world, eating more pasta than is sensible. 
Which scent is accompanying your book of choice in your travel bag?
Peau Santal, it's a perfect day to night fragrance and is affected so much by the skin and the temperature of the day. I'd also probably carry Lumière Dorée as the Ligurian coastline has such amazing orange blossom trees, so it evokes the beauty of floral neroli and fresh citrus. 
Casey, Senior Digital Marketing Executive
What book are you reading right now? 
'Flavour' by Yotam Ottolenghi and Ixta Belfrage.
The warmer weather calls for alfresco dining and new recipes! Similar I'm sure to many others, one of my lockdown saviours has been cooking and it's a past-time I've continued as things have begun to open up again. I thought I would brush up on my skills and learn some new recipes and have turned to Yotam Ottolenghi and Ixta Belfrage's iconic 'Flavour' book for some much-needed wisdom and inspiration.  
As we are slightly limited to where we can travel this year, whe8re are you daydreaming that you are lounging about reading this book?
Bangkok, Istanbul or Marrakesh! 
Which M.H scent is your summer holiday must-have?
My go-to holiday scent has to be Tea Tonique. I always reach for cool and refreshing scents during the hot weather and this fusion of cooling earl grey and revitalising bergamot does just the trick.