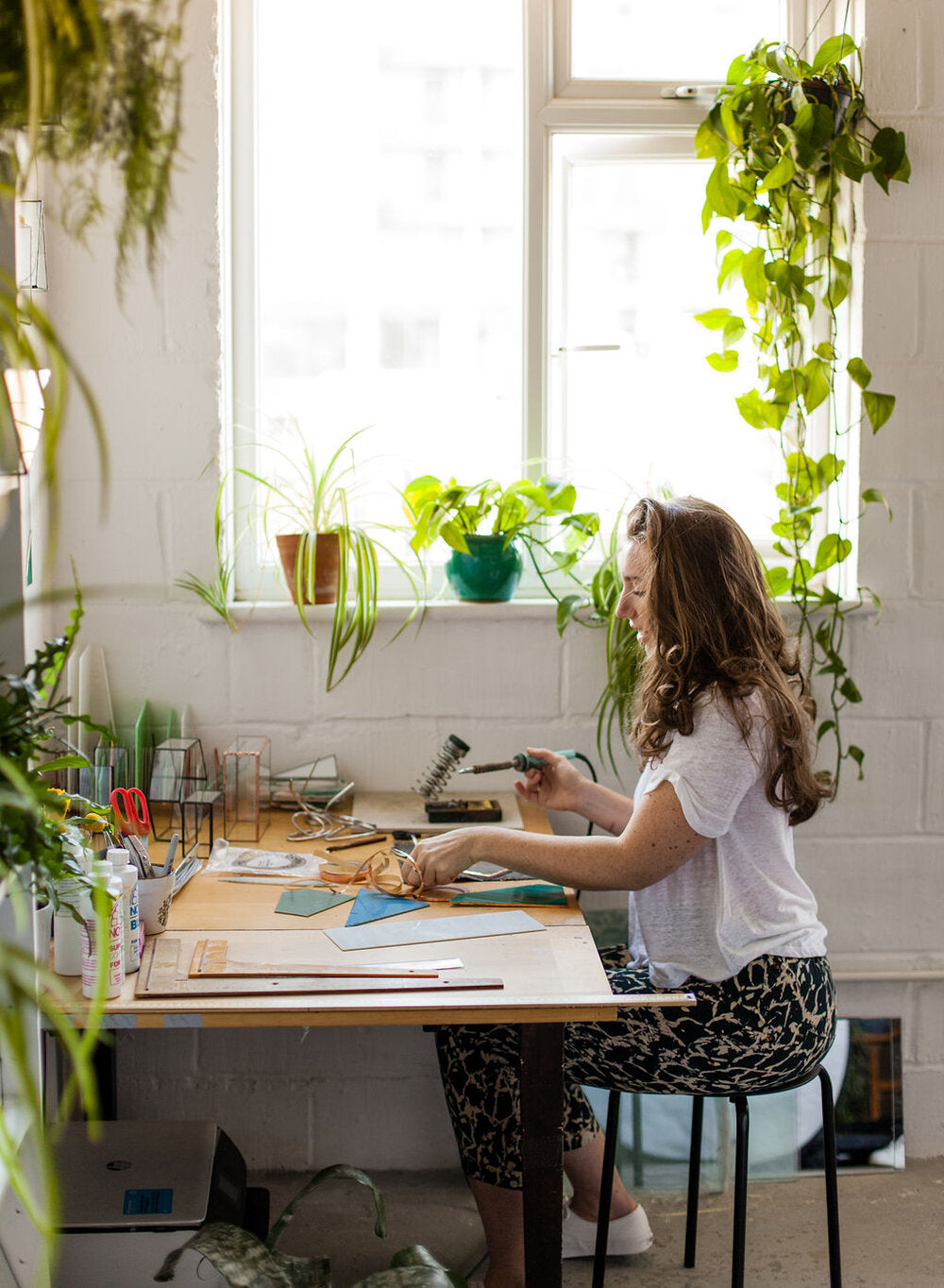 Inspiration and surroundings with glasswork artist, MONTI
To celebrate the launch of our new fragrance, we've partnered with a series of multi-disciplinary artists based in London who all use slow-living to inspire their craft, to bring the creative spirit of Hydra to you.
We sit down with self-taught stained glass artist, Dee Monti, to discover more about her designs and the traditional processes of her intricate work and the inspiration which fuels them. 
Where do you find inspiration?
I find inspiration in the simple yet rewarding activities of every day life that are often over-looked. I consider simple daily activities and draw inspiration from my own movements and experiences, trips, my daily routine and how I might spend my time off and reconnect with myself. Before I begin selecting the colour palette for a new collection, I'll normally spend about 1-2 weeks drawing new templates and laying them out so the whole collection flows nicely and fits along a similar theme.
What are your favourite things to create?
I really enjoy capturing women in simple, peaceful moments of their daily life. I love when my customers create a personal attachment to a particular piece which may remind them of a special, significant time in their life, may that be related to mental health, personal growth, start or end of a relationship, a nostalgic colour or memorable moment they shared with someone special. Stained glass is very emotive. It has an abundance of textures and tones, every sheet is completely unique so you'll see and feel something new every time you look.
How did you discover glass work and how do you aim to bring a contemporary approach?
I taught myself the copper foil technique through months of practice via YouTube videos and an old terrarium glass book I found in a charity shop in 2015. I initially launched MONTI as a Botanical Homeware brand and moved into stained glass during 2020. During lockdown I came to realise the beauty in simple pleasures of everyday life so I started to translate these into colourful pieces of glass art. Stained glass is traditionally reserved for churches, cathedrals and monasteries, I had never seen it in a contemporary setting or with diverse skin tones so I knew I was creating something really special. I immortalise women at home, resting, feeling comfortable in their own spaces, peacefully existing, reading, watering plants, enjoying moments of self care or drinking wine in the bath (a personal favourite).
What feeling do you hope to evoke in your work?
A warm, calming, peaceful but joyous feeling. The beauty of stained glass is a little like a water-colour painting, the rippled textures move with the sunlight and it really is mesmerising. Each piece reacts differently to different lighting, the colours change and the wispy, bubbly textures come through at different times of the day.
Who are your favourite artists?
I'm really enjoying Sabine Miicellis and Studio Lenca's work at the moment and recently discovered Hilma af Klint's paintings which are beaaautiful. I often refer to Hockney and Matisse when looking for some inspiration. I visited the Sagrada Familia last summer and fell in head over heels in love with the stained glass, so as and when I travel I love to try and discover stained glass in lesser known locations. Next on my list is the Manuel Ortega windows of Almudena Cathedral and the Matisse Chapel in Venice.
How do you take time to recharge?
I work from home so I often need to escape and reset, well, that's the goal I'm still trying to find a work-life balance which can be difficult when you're self-employed. If I've had a particularly glass-heavy week I might get a coffee, some fresh air walk along the seafront, lay on the beach (which is a new and greatly appreciated luxury), catch up with friends or try and create an at home DIY spa for myself which is always a good way to shake off a long day or week.
How do you find beauty in the everyday?
When I slow down and take a moment away from my desk and reduce screen time I really appreciate where I live, go outside and give my mind a refresh. It helps to boost my creativity which often comes to a halt when I remain in the same place for too long. I've noticed I appreciate a slower lifestyle and simple pleasures so much more since moving out of London to a more wide open space.
Is there a scent that holds significance to you?
I live right in front of the ocean now so I've swapped thick city smells with fresh salty sea air which feels quite significant. I'm really drawn to citrus, basil and amber scents.
Looking to try your hand at glasswork? Join us for a guided session with Dee where you can make your own sun-catcher at London's Mortimer House. Find out more and book here.
Visit the MONTI website to discover more about Dee and shop her work.